before I post part 3, let us revisit these, shall we...
okay, as much as Eric Cartman from the cartoon series South Park is somewhat right about Brokeback Mountain -it being a western "about two cowboys eatin' pudding" -there's much more to gay cinema than the many second rate indie digitals the many young directors are churning out...
But first what is Gay Cinema? Well, i really can't define that genre singularly. But rather, Gay Cinema as defined by these things i have commonly observed through my collections.
First: That's Soooo Gay
-in short, by the sheer gayness of it, it qualifies. whether it be a love story between two men and/or women, a coming-of-age story,and a coming out story. these films have no pretenses in presenting gay culture and 'the scene' to which the film has framed itself...
for example:
In & Out -comedy, starring kevin kline; about a teacher who is outed by his former and currently famous student after winnning the Oscar for best actor just days before his wedding to a longtime friend and fellow faculty at the high school where he teaches
Latter Days -romance, here a gay LA party boy takes a bet to seduce one of their mormon missionary neighbors (a very hot mormon missionary) who turns out to be gay!!! Famous for this line, "you want revelations engraved in gold and angels trumpeting down from heaven. what if this is it instead; me, telling you 'i love you' right here in the snow." the romance spirals in the midst of a rather beautiful sountrack.
Imagine Me & You -romantic comedy, the premise here is that the bride discovers the soon to be love of her life (their lesbian florist) on the day of their wedding...one of the two lesbian love films i made an effort to collect.
Dorian Blues -teen coming out/of age movie, about a guy named Dorian who realizes that he is gay at the age of 17 and tries to avoid it at first with the help of a loving brother named Nick and not so much from his 'nazi' father and passive mother.
Second: Borderline Gay
-this is where that rather vague concept of 'bisexuality' comes into play [for me, that's vague, okay]. these movies are defined by the temporary experimentation into the gay and lesbian world.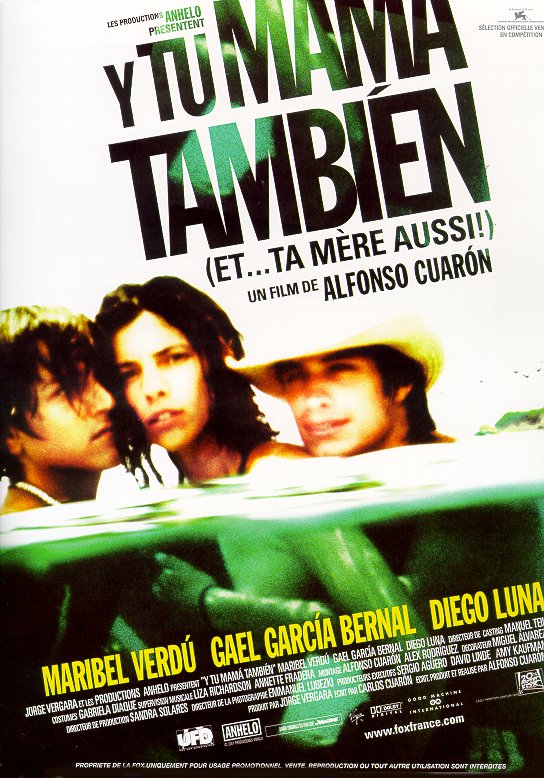 Y tu Mama Tambien -coming of age, two friends go on a road trip with a very attractive lady whom they both sleep with and then at a defining moment near the end of the movie makes them experiment on each other -kinda like her take at getting even after learning that the boys were just in it to boink her...
Kissing Jessica Stein -romantic comedy, about a woman whose failed attempts at heterosexual romance leads her to consider a lesbian relationship...i'm sure the girls at saint scholastica's can relate to this (biro lang!). but seriously, i love the emotional journey the characters in this movie take; and the music, and new york...need i say more?
Third: The Historical Gay
-movies about real people (including historical figures) who are gay and real events related to gay issues. and in some cases people going through unexplained gay issues...
Stephen Fry and Jude Law as Oscar Wilde and his beloved Lord Alfred Douglas
Wilde -period piece, stars Stephen Fry as Oscar Wilde and Jude Law as Lord Bossey. this details the hidden gay life of famous victorian writer Oscar Wilde and his lover (Bossey). very victorian in many sensibilities and nuances; and tragic...
i'm going to continue this next blog...