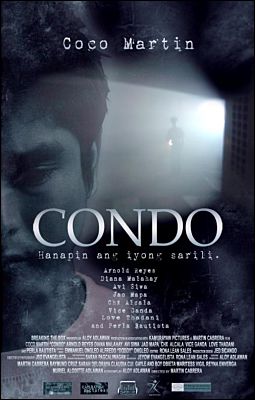 during my one of my usual trips to quiapo to exercise my patronage of the underground economy of pirated dvds, my supplier handed me a few titles with my copy of 'ang lihim ni antonio' -which should be the contents of this particular post, but if you know me, i wouldn't pass off an opportunity to criticize something if it didn't equate to being such a waste of time. And that waste of time, is martin cabrera's CONDO.
With the advent of digital cinema and the accessibility of it to young filmakers, one cannot help to look at the situation as a tragedy for the art that is cinema as there are bound to be a few horrible self-indulgent outputs such as CONDO.
To spare you some 90 minutes which you'll never be able to get back, indulge my summary. CONDO is some failed attempt at intelligent cinematic storytelling about a security guard who eventually 'finds himself' in the midst of the usual grind of daily work in a condominium that is as expected, full of familiar yet distant characters identified by the door numbers they occupy. Actually, this well-worded summary is undeserved by such a lousy movie so here's what it deserves: "it's a pointless story of a security guard who realizes that he needs an opthalmologist and eyeglasses."
There, i have just spared you some wasted minutes...[insert evil laugh here]
I will, for my respect of his talent applaud Arnold Reyes for doing what he can with whatever crappy script he was handed. His interpretation of the character was consistent and of note. Coco Martin has shown some improvement, but what can he do with a bag of barf, right?
In the end, it tries to be something that it's not layered over by all that cinematic pretense and i'm glad that i only got myself a pirated copy. That's the only blow i could deal these amateurs for wasting my time.
Oh yeah, i forgot to mention, i actually know these people...and they are paving the way for the tragic future of philippine cinema...a sign of bad things to come.